Date: 21st January 2011
JAYADEVA HOSPITAL CONDUCTS
Open Heart Surgery on Indonesian Child
HOSPITAL TO PROMOTE HEALTH TOURISM
CHILDREN FROM PAKISTAN, SRILANKA WAIT LISTED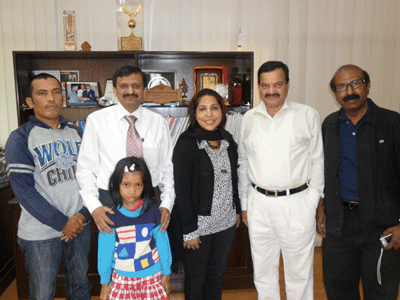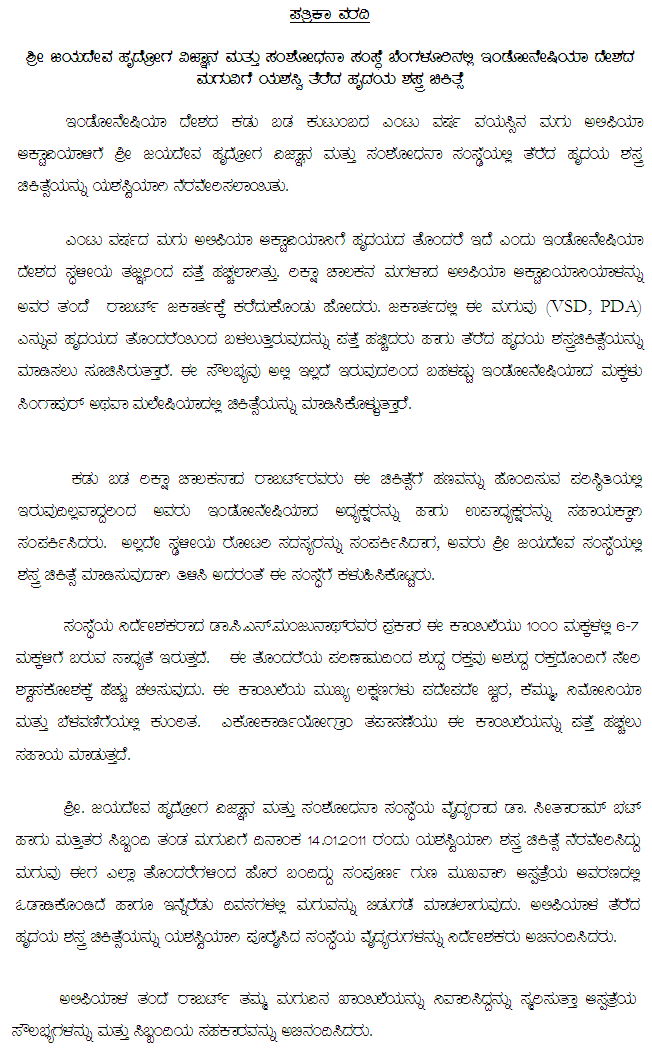 Eight years old girl Miss Alifia Octaviani was suffering from Heart Disease by birth. Cardiologists at Indonesian capital Jakartha initially evaluated this child and found two defects, in the form of Ventricular Septal Defect and patent ductus arteriosus. She was advised Open Heart Surgery but due to lack of facilities most of the Indonesian patients are operated at Singapore or Malaysia.
Patient's father has come from financially constrained family (Rikshaw Driver) could not afford this expensive surgery. The girl's father even approached the Vice-president and President of Indonesia but in vain. Parents then contacted the local Rotarian at Indonesia for financial help. Rotary International District, Indonesia under a goodwill programme of Rotary International District 3190, Bangalore have decided to help this child for getting operated at Bangalore. This surgery was conducted on 14th January 2011, successfully by the team headed by Dr Seetharama Bhat and others. The patient will be discharged within 2-3 days from the hospital.
According to Dr. C N Manjunath, Director, incidence of this type of heart hole is found in 6-7 children for every 1000 babies born. There is mixing of pure with impure blood and excess blood flow to the lungs. The usual symptom of large heart hole is frequent episodes of cough, fever, pneumonia, growth retardation. Echocardiogram Investigation will always clinch the diagnosis and helpful for treatment.
Rotary International District Bangalore and Jayadeva Institute has equally shared the cost.
The child had an uneventful recovery. The parents of Miss Alifia Octaviani are happy. They are also very much impressed by the facilities, hospitality and the concern of the hospital staff. They never felt it is a Government hospital.
DR.C.N.MANJUNATH
DIRECTOR