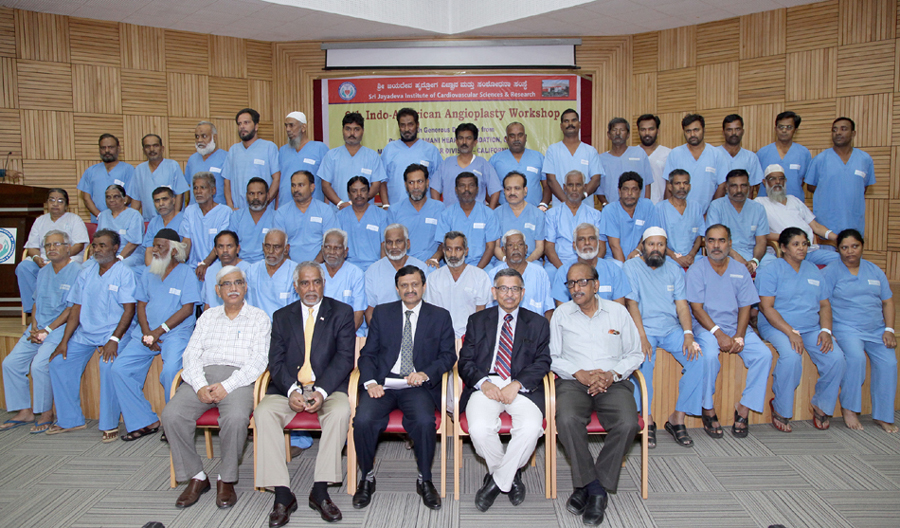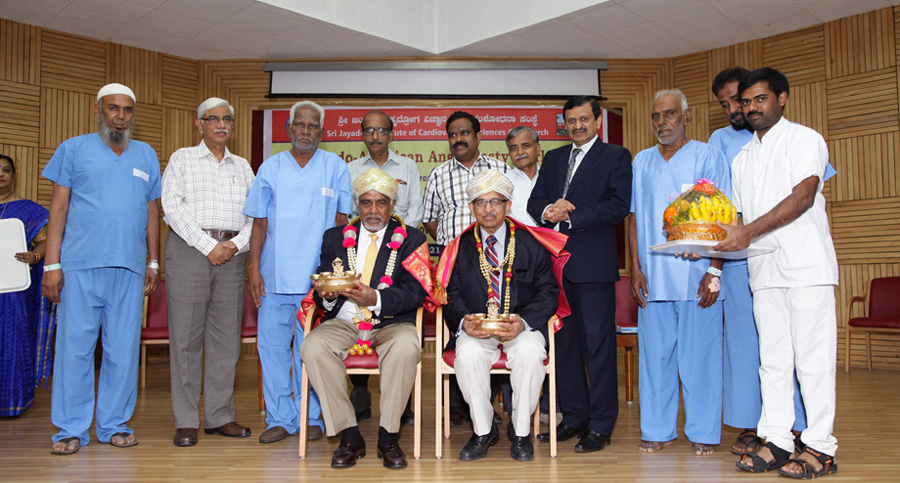 Dr. C.N.Manjunath, Director SJICR along with Dr. Govindaraju Subramani and Dr. N.Devaraj from USA along with patients.
Jayadeva Institute has conducted 150 free Angioplasties in joint collaboration with Dr. Govindaraju Subramani Heart Foundation and Medtronic Vascular Division, Santarosa, USA
Stents worth Rs. 1.25 Crores given free of cost to all patients.
Most patients are poor Farmers, Daily wage Labourers, Footpath Vendors, Autorickshaw Drivers, Garment workers and helpless Senior Citizens from Karnataka, West Bengal, Andhra Pradesh, Telangana, Tamil Nadu, Bihar, Madhya Pradesh
Sri Jayadeva Institute of Cardiovascular Sciences and Research, Government run autonomous Institute at Bengaluru has conducted the Biggest ever Angioplasty Workshop from 17th October 2016, wherein 150 poor patients underwent Angioplasty & Stenting Procedure. Stents were given free of cost to all these patients. The most expensive component of Angioplasty is Stent, each costing between Rs. 75000/- to Rs. One Lakh.
According to Dr. C N Manjunath, performing 150 Angioplasties in just 5 days is technically demanding, it was possible because the Institute has got 7 Cathlabs, 45 full time Cardiologists and excellent technical and nursing staff.
Dr. Govindaraju Subramani Heart Foundation and Medtronic Vascular Division, Santarosa, USA has donated Stents & Balloons worth Rs. 1.25 Crores and another Rs. 50 Lakhs was contributed by the Hospital. It is a role model philanthropic work to many NRI doctors and organizations.
Most of patients are poor agriculturists, daily wage labourers, Auto-rickshaw Drivers, Foot path vendors, Garment workers and financially constrained Senior Citizens.
Dr. C.N.Manjunath said Heart attack related diseases is steadily increasing even among poor people, rural areas and is occurring at younger ages. The youngest patient in the workshop was 38 year old male (Agricultural Labourer) and the eldest patient is 83 years old male (Sr. Citizen). Out of 150 patients – 15% are female and others are male. 10% of them were below 50 years. The main risk factors among this workshop patients are Diabetes – 48%, Hypertension – 48%, Smokers – 47% and 50% with high cholesterol level. "Heart attack related disease is no more a disease of elite class and elderly population, it is also affecting the younger age group, women and poor people. Patients expressed their gratitude to Dr. Subramani, Medtronic USA and Jayadeva Institute for this noble work.
Pre discharge counseling session which was arranged for these patients, Dr. G. Subramani advised them not to stop blood thinning medicines (Aspirin and Clopidogrel) otherwise it may lead to heart attack, optimal control of Hypertension, Diabetes along with low fat diet, more of vegetables and daily walking was advised.
DR.C.N.MANJUNATH
DIRECTOR
SJICR, BENGALURU